AZURE Biosystems
"55GB~1440GB per run, PE150(FCS) sequencing at full capacity in only 37 hours "
Support sequencing and data analysis in a wide range of areas including basic research, clinical research, forensics, and agriculture.
DESIGNED TO DELIVER THE HIGHEST LEVEL OF PERFORMANCE, AZURE CIELO REAL-TIME PCR BRINGS OUT THE BEST IN YOUR DATA

- Offering innovative optics and technology for high-performance real-time PCR:
- Flexibility through innovation
- Sensitivity by design
- Engineered for faster run times
- Built for reproducibility
- Simplicity through software
Learn more >>The Azure Cielo Real-Time PCR system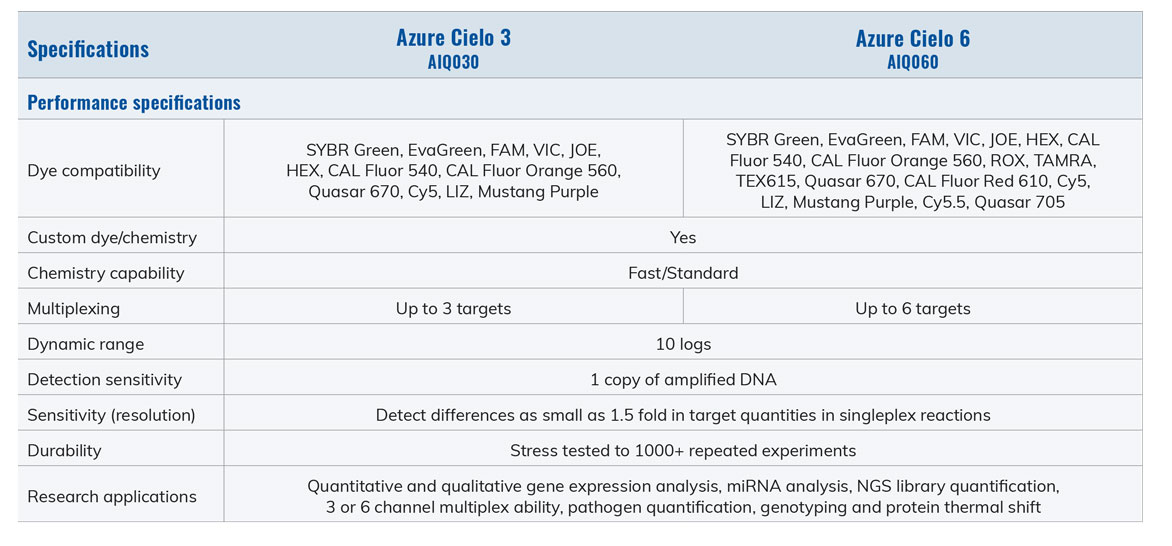 SIMPLICITY THROUGH SOFTWARE AZURE CIELO MANAGER
A compact system with integrated touch screen and intuitive, protocol-based software.
Built-in Wi-Fi, ethernet and USB allow for remote control and make transferring data easy.
AZURE CIELO MANAGER
A compact system with integrated touch screen and intuitive, protocol-based software. Built-in Wi-Fi, ethernet and USB allow for remote control and make transferring data easy.
Key features include:
• Data analysis modes for qPCR with dye/SYBR, quantitative PCR with probe, allele discrimination with probe, comparative quantitation
• Intuitive plate map design allows users to assign well ID as standards, unknowns, calibrators, negative controls, NTC, etc.
• Easily set up and monitor thermal profiles including temperature, time and plate scan for each step
• View real-time qPCR graphs during an active experiment to monitor real-time reactions
• Post-run summary and analysis with ability to view statistical data in the form of charts, curves and graphs
• View a complete and easily customizable report of the qPCR experiment that can be readily exported
• Easily copy/paste data or graphs into Paint, Microsoft Office or other supported applications as needed
• Export data to MS Office, PDF or in MIQE preferred RDML (1.0, 1.1, 1.2) formats