Ion GeneStudio S5 Systems
Ion GeneStudio S5 Systems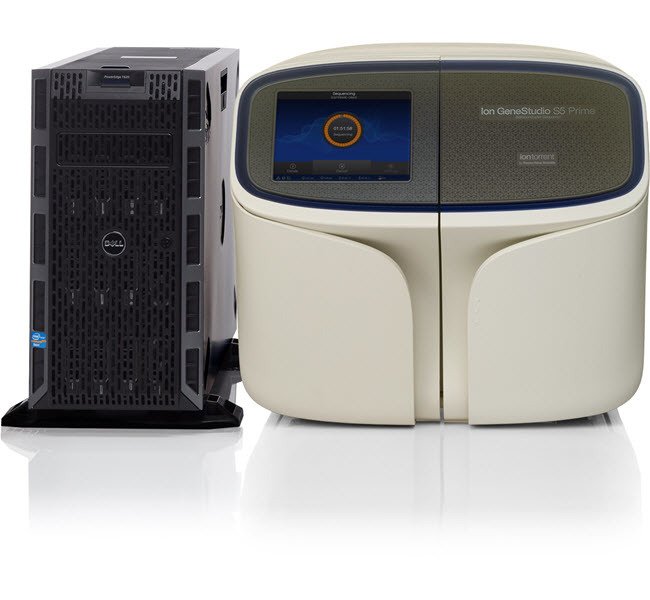 Expand your research to cover 2M to 130M sequencing reads per run with this scalable platform

The Ion GeneStudio S5 systems are designed to enable a broad range of targeted
next-generation sequencing (NGS) applications with speed and scalability.
Five Ion S5 chips enable a sequencing throughput range of 2M to 130M reads per run.
"Sequencing and analysis in as little as three hours"
As little as 15 minutes hands-on time and same day results.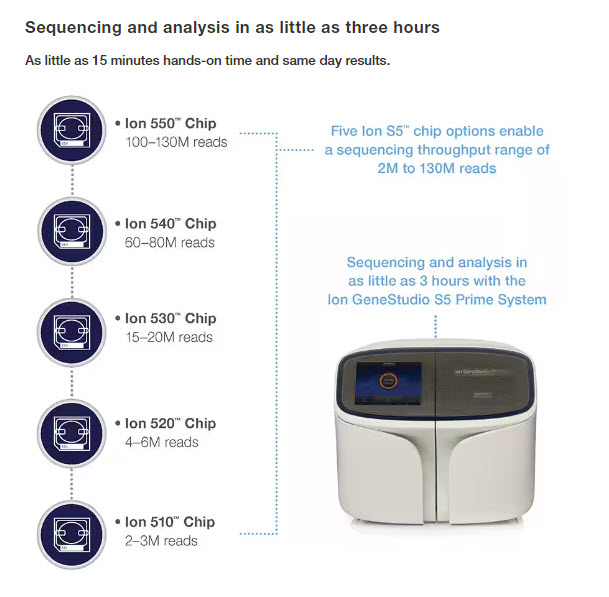 Since its inception, next-generation sequencing (NGS) has
revolutionized genomic research, enabling accelerated
biological discoveries and clinical advancements. Its
power and application potential as a research tool
continues to evolve, driving demand for faster, more
accurate sequencers.


Built on Ion Torrent™ technology, the Ion GeneStudio™ S5
Systems provide the simplest sample-to-data workflow
for targeted sequencing with industry-leading speed and
scalability, allowing you to spend more time answering
critical questions in your research.

Learn more >
Ion GeneStudio S5 System

Ion GeneStudio S5 Plus System

Ion GeneStudio S5 Prime System

Max. throughput/day (chip type)

15 Gb
(one Ion 540 Chip)

30 Gb
(two Ion 540 chips)

50 Gb
(two Ion 550 chips)

Total sequencing and analysis time at max. throughput

19 hr (Ion 540 Chip)

10 hr (Ion 540 Chip)
11.5 hr (Ion 550 Chip)

6.5 hr (Ion 540 Chip)
8.5 hr (Ion 550 Chip)

Compatible chips

Ion 510, 520, 530, 540 chips

Ion 510, 520, 530, 540, and 550 chips